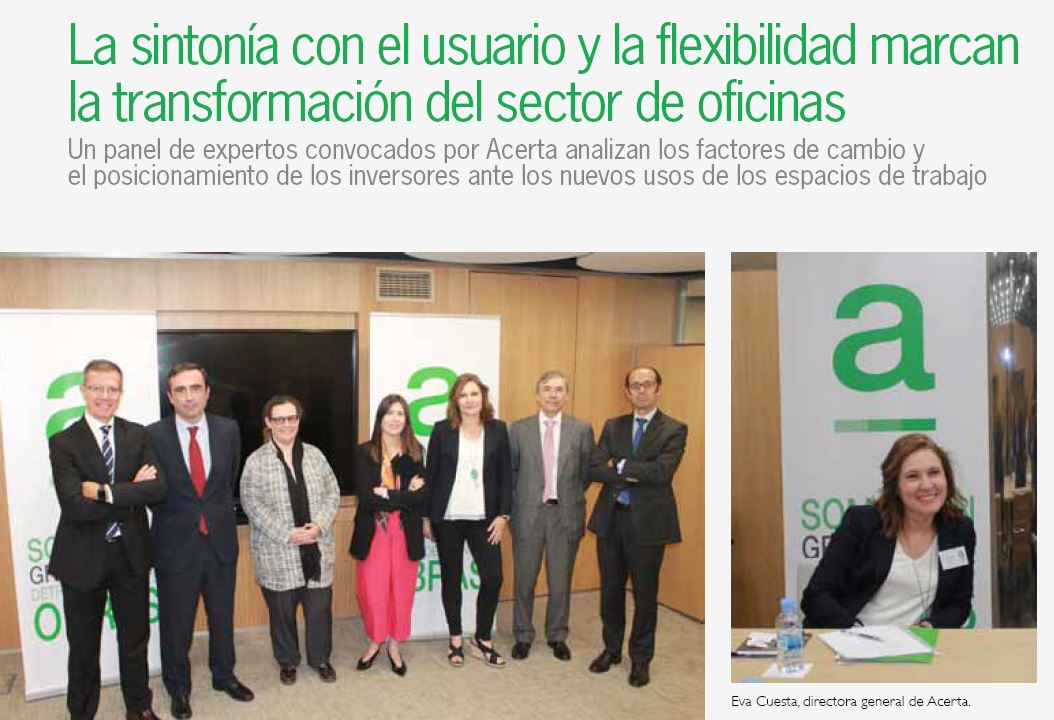 OBSERVATORIO INMOBILIARIO. The armony with de user and the flexibility are the main transforming factors in the office sector
Un panel de expertos convocados por Acerta analizan los factores de cambio y el posicionamiento de los inversores ante los nuevos usos de los espacios de trabajo.
El sector de oficinas se está transformando rápidamente. Ahora el foco del negocio está puesto en el usuario y en el uso de los edificios, que está cambiando rápidamente. Conceptos como interacción, coworking o flexibilidad se imponen en las oficinas del presente y se proyectan hacia el futuro, según se ha puesto de manifiesto en un desayuno de trabajo organizado por Acerta bajo el título "Transformación del sector oficinas. Inversión- Gestión".
Este desayuno-coloquio, celebrado en el edifico Castellana 81 de Madrid, estuvo moderado por la directora general de Acerta, Eva
Cuesta, y en el que participaron Miguel Pereda, CEO de Grupo Lar; Xavier Barrondo, director general de Negocio de GMP; Javier Zarrabeitia, director de Terciario Oficinas de Merlin Properties; Ana Vidal, directora General de Bouygues España; Esther Escapa, head of Acquisitions and Development Iberia de Axa, Francisco Pumar, director general de Insur y Francisco Ordóñez, CEO de Acerta.
[vc_btn title="Read full news in PDF" style="flat" color="green" i_icon_fontawesome="fa fa-file-pdf-o" add_icon="true" link="url:http%3A%2F%2Fgrupoacerta.com%2Fwp-content%2Fuploads%2F2018%2F05%2Fobservatorio_mayo.pdf||target:%20_blank|"]